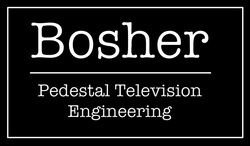 Engineering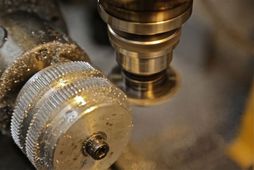 PTV is proud to be working with renowned camera engineers, Les and Chris Bosher, to provide a high quality engineering service. From filter holders to a full bespoke design service.
We have a purpose built workshop incorporating modern CNC & manual machinery, with an excellent design facility calling on over 47 years experience.


---
---
The Bosher 'Basic' Head for Polecam rigs
We have developed the head over the last couple of years and it has been thoroughly test in the field. The head is superbly engineered and and is solid as a rock. The Bosher head holds the rig firmly and balance adjustment is simple. This supuerb unit frees up you existing tripod head for use with another camera.


The Bosher 'Basic' Head


The rear section of the Polecam slides into the Rear Assembly.


Pan and Tilt friction controls and brakes.


Available in 75mm, 100mm and 150mm bowl fittings. £999 Plus Vat

---
New Bosher Ronin Adapter
The Ronin M gimbal system is the perfect match for your Polecam,
providing 3 axis, gyro stabilization. The new Bosher Ronin adapter simply slots into the existing Bosher Levelling System and connects to the Ronin via a simple, quick release mechanism.
The Levelling system keeps the Ronin horizontal, putting less strain on the gyros and increasing battery life.



---
The Bosher Levelling System
The Bosher Levelling System was used to great effect by Neil 'Lammo' Lammond and and Chris Taber at the Glasgow Commonwealth Games on the Swimming and Diving events.
---
'The Bosher levelling Head is the best thing I have done to my Polecam.
Shots I achieved on the Commonwealth Games swimming would not have been so stable without it. I have to say it was money well spent. To me, it has given a new lease of life to my rig.'


Neil Lammond - Lammo Ltd

'The Bosher levelling System is just what I'd been hoping to find to complement my Polecam rig. The added stability and resistance to minor shakes is perfect in windy conditions and faster moves. Precise balancing and a bespoke tripod head makes this, for me, a major step foreword in Polecam dynamics.'



Tom Patterson - Forager Films

'The Bosher Levelling Head system will now become part of my Polecam kit, and I have the confidence to know that I can shoot outdoors in difficult windy locations and produce stable results. Polecam is already an amazing production tool and this enhances its capabilities even further.'



John Gillan - JG Broadcast


---
High quality precision


Our Products Include -
Universal Mounts
Lens Mount Adapters
Range Extenders
Lens Conversions
Filter Holders
Camera Conversions
Lens Supports
A Versatile 4 x 4 Matte Box System
Variscope IV Periscope/Straightscope System
Polecam Head levelling system

---

Les Bosher

A veteran of the golden age of cinema, Les has worked on some of the biggest movies including 6 Bonds and has 'Raised the Titanic'

A Camera Engineer and designer for 47 years, Les remains at the forefront of bespoke camera modifications and quality engineering.


---


Chris Bosher


With 20 plus years of experience, Chris has produced many bespoke items for the professional market, from filter holders to full camera crane systems.

---
---
---