Pedestal Television nets second basketball season with BBL TV
Llangynidr, Wales, 9th July 2014:
Wales-based Pedestal Television has secured a second season of 30 games to be covered live for the British Basketball League. The BBL operates the only Men's Professional Basketball League in the UK, playing over 250 matches in a season via the League's 13 member clubs in Bristol, Cheshire, Durham, Glasgow, Leicester, London, Manchester, Leeds, Newcastle, Plymouth, Sheffield, Surrey and Worcester.
Pedestal Television's contract covers the supply, crewing and operation of the broadcast equipment required, using their flyaway PPU, Portable Production Unit. The matches are cut and streamed live via the BBL website
www.bbl.org.uk
, and highlights are broadcast on British Eurosport HD.
David Leyden Dunbar, Commercial Director of British Basketball said "Taking control of our broadcast content was a huge step for the League and we needed a partner who could be dynamic, reacting to our needs, in addition to giving us total confidence in their ability to meet our expectations in terms of delivery. I'm pleased to say Pedestal TV exceeded these expectations and have fitted the bill perfectly. With an encouraging first season of weekly content under our belt we're looking forward to a bigger and better second year with Pedestal."
Pedestal Television's Chris Taber said "The BBL are leading the way with the concept of BBLTV. Basketball has a big following in the UK and it's the forward thinking of the BBL that's giving the fans what they want and is sucessfully exposing the sport to more and more people."
Pedestal Television was founded by cameraman Chris Taber and is based in Mid Wales, UK. The production side of his company offers compact technical facilities ideally suited to court sports such as basketball, and the model easily adapts to other types of location recording such as theatre, performance, dance, music and events. An experienced cameraman, he has also become one of the worlds most sought after Polecam Owner\Operator working regularly world wide and also has an engineering partnership, Bosher, which produces fine engineering products from lens mount adapters right through the Bosher Levelling Head system for Polecam, to complete design and fabrication projects.
| | |
| --- | --- |
| | The BBL, British Basketball League, is an independent company owned by its member clubs, which runs the top men's professional league in the UK. Each club has an equal shareholding in BBL and has a representative on the BBL Board of Directors, thus is a part of all decision-making. There is a central BBL office, from which league-wide administration, marketing and media is undertaken, although the clubs are spread across the country. Each BBL club - or franchise as it is known - operates in it's own distinct area and there is only one club per franchise area. This allows each club to maximise it's commercial and media value within their local community. |
News!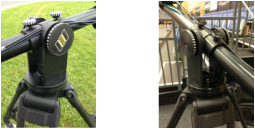 PEDESTAL TELEVISION LAUNCHES LEVELLING HEAD SYSTEM FOR POLECAM
Llangynidr, Wales, 6th December 2013
-
Pedestal Television's engineering brand, Bosher is proud to announce the arrival of the new Bosher levelling system for Polecam, the highly regarded single operator lightweight camera jib.
The Bosher Levelling Head BH-02 is a bespoke tripod head levelling system built for Polecam owner operators, engineered to the highest levels by film and broadcast industry-acclaimed Les & Chris Bosher.
The precise engineering of the Bosher Head provides outstanding performance, the fine friction adjustments allowing the operator to fine tune the rig's movement precisely.
The Polecam pan & tilt head is re-attached to the front of the rig by a bespoke quick release clamp and is levelled by a simple cable. This maintains a level horizon during even the quickest moves, and enhances stability in windy conditions and also when using the Polecam head underwater via the FishFace system.
Top Polecam owner operator John Gillan said "I've just come back from the Bahamas where I was shooting a Red Bull Ultimate Rush documentary with my Polecam. I knew that I would be set up on a cliff top with a likelihood of strong winds, always a problem for any jib or crane, so I ordered a Bosher Head system from Chris and took it with me to help stabilize the Polecam in what could be a very difficult situation.
In the event there were indeed strong winds, and I'm happy to say that the system worked perfectly. It did exactly what I hoped it would do, and I certainly wouldn't have been able to shoot it so successfully without it."
"The Bosher Head system will now become part of my Polecam kit, and I have the confidence to know that I can shoot outdoors in difficult windy locations and produce stable results. Polecam is already an amazing production tool and this enhances its capabilities even further."
John Gillan is one of the world's top Polecam owner operators, based in the UK but working world wide.
The Bosher Levelling Head system is retro compatible with all existing Polecam heads including the FishFace underwater system. It is now available directly from Pedestal Television
www.pedestaltv.com
, along with other fine engineering products from lens mount adapters to complete design and fabrication projects.
Les Bosher is a veteran of the golden age of cinema, including his camera engineering work on six of the Bond films and also 'Raise the Titanic.' A camera engineer and designer for 47 years, Les remains at the forefront of bespoke camera modifications and quality engineering. Chris Bosher has more than 20 years similar engineering experience, creating anything from custom filter holders to complete camera crane systems. Their combined skills offer a very high level of engineering expertise as seen in the Bosher products.
Chris says,' these heads, built by Chris Bosher, are incredibly stable and complement the Polecam beautifully. This is quality engineering and we are delighted to be selling them. The basic head has wonderful friction control and with the optional weight carrying system you can achieve perfect balance in any position. The full levelling system has changed the way I operate, the system is more stable (especially in wind) and horizons are maintained 100% of the time. If your serious about your Polecam then you should try one of these!!'
---
PTV Polecam training in Russia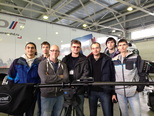 Chris spent a week in Moscow recently training Russian Camera Operators in the noble art of Polecam. 24 Polecam rigs have been bought for the Winter Olympics in Sochi next year. Chris say, ' It was great to be invited to Moscow to run the Polecam 'Masterclass'. Over the week I trained 25 Operators and my Russian came on a treat!'
Spasibo!!
---
US TV Show, demonstrates Polecam versitility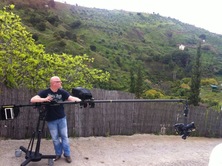 The Polecam system has been showing its strengths on US TV show 'You Live in What?'
Aired on US cable network HGTV, Chris has been all over Europe shooting obscure abodes and their owners. Chris says ' Yet again the versatility of the Polecam system proved a big hit. In one location in Southern Spain we were filming an incredible villa carved into the rock. Over the course of 6 hours we managed 50+ shots from 22 different locations and on 10 different levels, I can't think of anything else that would let you do that!'. With its Super 35mm sensor combined with Canon EF and Nikon glass, the
image quality from the Canon is
astonishing.
'
Because
the Canon is a stand alone camera in it's own right it was a simple change to use use it off the Polecam and pick up all the 'B roll' and interviews'.
Producer Jonathan Taylor says, 'The Polecam, especially when paired with the Canon C300, offers an unprecedented combination of flexibility, portability, cost control, and stunning production value. Television workflows are demanding ever-increasing quality in ever-decreasing amounts of time; Chris Taber and Polecam make that possible'.
Click
here
to see the video
---