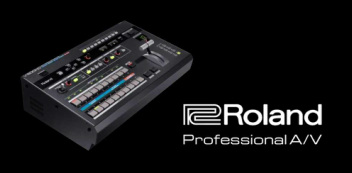 Vision Mixers
All prices include Vat and Delivery
V-1200HDR

Control all the advanced functionality of your V-1200HD switcher with the optional V-1200HDR Control Surface. The V-1200HDR provides a professional physical control surface for the V-1200HD with dual LCD touchscreens for monitoring and control, a large T-bar for effects and transitions, customization and operation of the mix effects buses, HDMI video outs, and many buttons for source switching.
V-1200HD

A comprehensive and flexible multi-format video switcher giving you complete control of video sources, key layers and mixing engine configurations. The V-1200HD introduces a unique flexible hybrid engine with 4:2:2 broadcast switcher and 4:4:4 live event switcher. In addition to powerful video capabilities, the V-1200HD also has a built-in 16-channel audio mixer.
V800HD

Just like the design of the popular Roland V-1600HD switcher the V-800HD is a true multi-format video mixer meaning there is no need to match input sources to the output resolution. Every input has it's own broadcast quality scaler that can individually scale, stretch, crop and zoom each source as required to fit any output resolution chosen.

For more info click

here
V40 HD

The V-40HD Live Video Switcher is ideal for any live event or installation that requires the freedom to connect a variety of sources whether they be digital or analog, computer or video format. It is particularly positioned to support configurations using popular HDMI cameras as well as computers.
Click here for more info
V-4EX

The Roland V-4EX advances the industry-standard Roland V-4 four channel video mixer by incorporating HDMI inputs/outputs, USB streaming, HDCP support, built-in touch multi-viewer, and audio embedding. These features are added to the strong primary feature set including built-in effects and unique user interface that has made the V-4 one of the besting selling video mixers of all time.
V-1SDI

V-1SDI is a flexible and versatile video switcher that makes it easy to connect and switch professional 3G SDI cameras and playback sources along with HDMI sources including cameras, smart phones, computers, tablets, Blu-ray players.
V-1HD

So compact and portable, you can bring the V-1HD and use it anywhere! The V-1HD makes it easy to connect and switch video cameras, smart phones, computers, tablets, Blu-ray players and other HDMI video sources with a simple push of a button or slide of the T-Fader.
All in One Mixers
VR-50HD

The Roland VR-50HD all-in-one AV mixer beautifully integrates an audio mixer, video switcher, multi-viewer touch screen and USB video/audio streaming into a stand-alone device. This single unit delivers functionality that until now required a number of peripheral devices to accomplish. This portable live HD production solution is ideal for schools, churches, council meetings, corporate events, sports, trainings, or any other live event.
VR-4HD

The VR-4HD is a complete HD studio in a compact and portable package that replaces several different pieces of complex A/ V equipment.
Designed with single-person operation in mind, the VR-4HD enables easy switching and mixing of sound and video using advanced video and audio Digital Signal Processing (DSP) along with dedicated hardware controls faders, buttons and touch screen interface.
VR-3EX

The Roland VR-3EX is the next generation 4-channel SD performance audio video mixer which features HDMI inputs/outputs, USB streaming, HDCP support, built-in touch multi-viewer, an audio mixer all in a compact portable unit. Designed to be a live production switcher thebuilt-in audio mixer with up to 4 frames delay to "lipsync" your video source. Scaling on the output allows you to output up to 1080p HD Video and Audio quality.
Digital Audio Desks
M-200i

The M-200i being part of the V-Mixer family means it has award-winning sound quality, operation and expandability – all condensed into a compact body. It is a V-Mixer with 24 analog inputs, 12 analog outputs and stereo digital output (AES/EBU) all built-in to the main unit. It's ready to perform, out of the box.

1608 Stage Box

The S-1608 and S-0816 Digital Snake are compact versions of the popular S-4000 Digital Snake System. Easy to use and quick to install, the S-1608 Digital Snake System is a small format audio snake solution that offers the highest quality audio signal available in a portable snake system. The S-1608 Digital Snake system is ideal for bands, corporate A/V events, seminars, rental and staging houses, Houses of Worship and broadcasters that need the best possible sound quality from their audio without the high frequency losses and bulk of an analog snake.
---